The Atlantis coating of the screw anchor is an organic coating composed of 3 layers:
A first layer of zinc coating, applied directly on the base material with a minimum thickness of 5 μm.
A second chemical conversion coating (passivating) around 1 μm thick.
A third layer of epoxy resin, applied as 2 sequential successive layers, with post curing, around 7 μm thickness each one.
In this way the overall total coating thickness is thicker than 20 μm.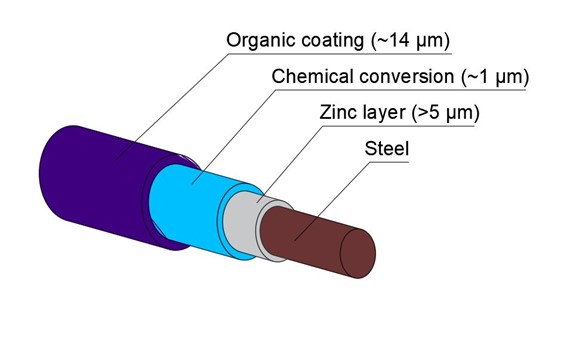 Epoxy layers are applied by means of low speed spin immersion in the product, plus a post curing during 30-35 minutes at 180-200 ºC.

Las ventajas de este recubrimiento
Atlantis coating advantages:
Resistance to scratches
Resistance to acids and alkalis
Reduced contact galvanic pair
No affected by hydrogen embrittlement
Due to the low process temperature, there is no change of hardness neither metallographic properties.
Chrome VI free
Reach and RoSH compliant
Different colours available (silver, blue, yellow, green, etc.)
Salt spray corrosion resistance ISO 9227 > 600 horas
Higher corrosion resistance than hot dip galvanized (HDG) 45 μm thick.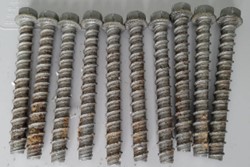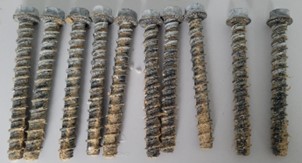 Test of 1440 hours according to ASTM-B117 in water. Left: Atlantis; right: HDG 45 μm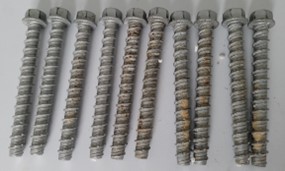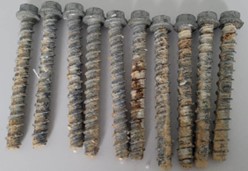 Test of 1440 hours according to ASTM-G85. Left: Atlantis; right: HDG 45 μm